International Cooperation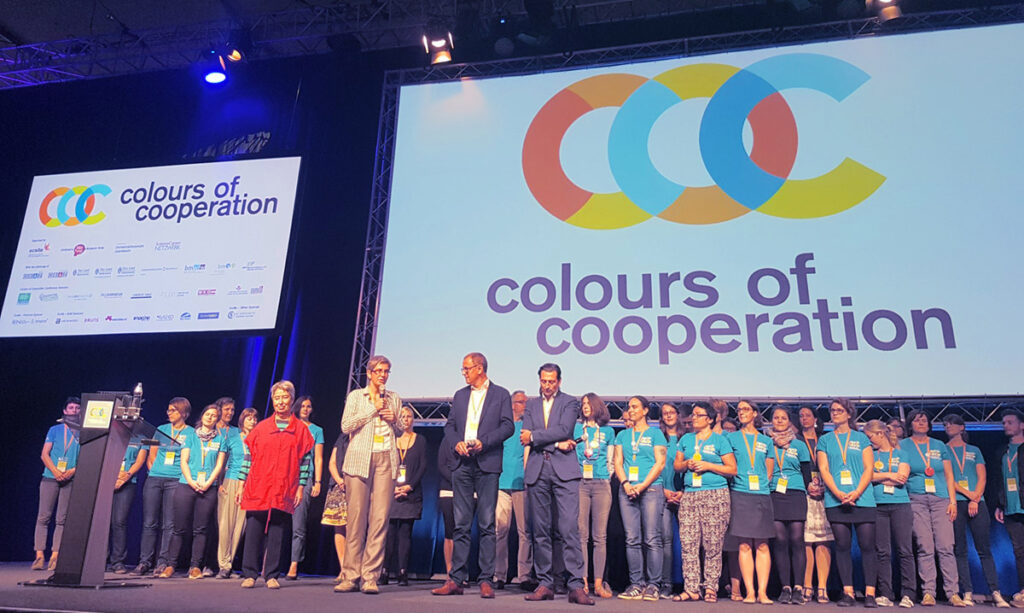 We are part of an international community
The Austrian ScienceCenter-Network forms an active part of the international community for science communication. The association has – due to its high reputation – acquired an important role in terms of exchange, learning and inspiration on both, a national as well as an international level. This way, we can ensure that Austria picks up international trends and has a saying in its further development.
Furthermore, we participate in world-wide projects and global campaigns, which try to make science comprehensible and accessible for the broad public. In order to preserve an ongoing communication with colleagues, we take part in congresses and/or launch them ourselves. There, we incorporate our expertise and try to further develop and professionalize science communication.
Initially, the distinctive structure of our network was unfamiliar to various international cooperation partners. There is no other country with such a diverse national network focussing on science communication, which is based on cooperation, communication and network-theory. By now, our flexible and non-hierarchical structure has been acknowledged as an effective model which, as a result, leads to numerous requests for cooperation.
The Science Center Netzwerk in Austria is without doubt the most grass roots, malleable and intriguing of all movements I encountered on my European tour.

(Julie Becker, ECSITE 2014)
We help developing ideas
The European Network of Science Centres and Museums, ECSITE, can be seen as our "international family". Since 2005, we have been contributing to all the conferences and in 2016 we had the honour to co-host the Annual Conference in Graz, which was without doubt a great opportunity for our network.
As a member of the committee, we help planning the content of these conferences. In theFacilitation Group, we develop new approaches and in pre-conferences we further discuss them with international partners. Since 2016, we are leading a think tank within the ECSITE which is working on a framework for international inclusion, equality and diversity in Science Museums and Science Centres.
Moreover, we are a contributing member of the European Science Engagement Association, short EUSEA, and co-hosted the annual conference 2019 in Vienna.
We are on-site learners
Through the Erasmus+ Mobility Programme we are given the opportunity to visit international partners in order to progress through face-to-face interaction with colleagues in different organisations. That way, we were able to get to know new approaches of science communication, such as Science Shows, Science Festivals and Tinkering. Furthermore we are given the possibility to deepen our knowledge of theoretical concepts such as, for instance, Science Capital.
The most effective method for us have been Job Shadowings, through which we were able to observe the (didactic) work of Science Centers in Greece, Great Britain and France over a period of days or even up to six weeks. This has given us valuable impetus to our own work.
We collect all experiences gathered within these mobility programmes and communicate the results to all interested partners. In 2015, Barbara Streicher was honoured as spokesperson for Erasmus+.
We are reliable partners in EU-projects
Through European projects we are given the chance to establish an intense and multi-annual collaboration on specific topics. Currently, we are part of projects focussing on the following: science communication for refugees (PISEA) and use of innovative didactics for underserved schools (Tinkering EU).
Apart from our current projects, we can proudly look back at various completed projects such as: various discussion games (playDECIDE, FUND), Cities of Scientific Culture (PLACES), a civil commitment campaign (VOICES) and the establishment of Science Centres in south-eastern Europe (SEE SCIENCE).
We participate in global campaigns
As the Austrian network, we take part in events coordinated by the international Science Centre Community, which is an organisation trying to highlight the importance of global topics.
Since 2016, the "International Science Center and Science Museum Day" is celebrated on 10 November. -Austria's contribution was an event concerning the Sustainable Development Goals. Needless to say that the Austrian network participated in 2017 and 2018 as well.
In the run-up to the Rio-Conference in 2012, the campaign "planet under pressure" motivated Austrian partners to various activities. Margit Fischer represented the international Science Centre Movement in London by giving a speech on the topic of "High-level Response on Engaging Society".
During the International Polar Year 2007, several schools in countries all over the world examined which impacts the melting of icebergs, glaciers or polar caps would have on the sea level.